Towers of Power – what are they?
by Alanna Moore, 2022.
Unique to Ireland, mysterious Round Towers were built around a millennia ago and they later became iconic expressions of Irish culture. Towering up to around 35m high, they were built in monastic complexes, usually situated close to the church. While most buildings of the time were made of timber, wattle and daub, these stone structures were durable and survived long after other monastery buildings disappeared. They acted as sign posts for pilgrims, when roads and signs were non-existent. The daily routines of the monks were announced by the ringing of bells and they would have been used for bell ringing; treasures were also kept in them. A lot of mystical meaning has been attributed to them, whether justified or not, there are few written records to tell us much. Nowadays the circa 75 Towers are mostly ruins scattered around the country, having been mostly toppled by lightning. The decline was halted in the 19th century, when lightning rods were installed and repairs done to many of them.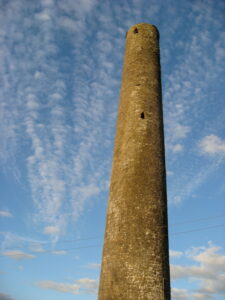 When American Phil Callahan was stationed in Northern Ireland during World War Two to do radio work he was intrigued by the local Round Tower on Devenish Island in Lough Erne. Farmers would ferry their cows over to the island by rowboat to enjoy the lush pastures there. Later he returned and investigated other Round Towers. As a radio technician, it struck him that Round Towers were like an antenna in the landscape. Indeed, he was able to gauge intensified magnetic fields around them. Callahan went on to become an expert in insect antennae and he worked for pesticide companies as well as the American military. He wrote several fascinating books. On retirement, he pursued more benign studies of the energetic effects of the Irish Towers and the small versions he was experimenting with, that became known as 'Towers of Power' and 'Power Towers'.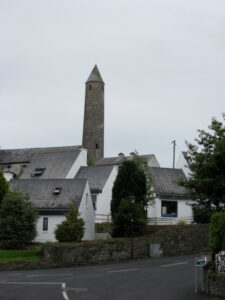 Callahan was the first person to realise the biological significance of diamagnetic and paramagnetic substances. This was nature's form of subtle magnetism, where certain substances can be slightly repelled or attracted to a magnet. He found that the Irish Towers were often highly paramagnetic and they appeared to be acting as giant Earth acupuncture needles, drawing down the Sun's magnetism into the soil. Schumann resonance and other cosmic energies were also involved. Towers were assisting water to percolate better into the soil and they reduced its evaporation, while improving the life of the soil, the microbial biota, and thus helping increase the creation of topsoil.
Farmers started to take note of his discoveries and one can read of the Power Towers that were developed in that wonderful book 'Secrets of the Soil'. One reads of the Towers made by John Quackenboss in Virginia, USA in the mid 1980's. He made 6ft / 1.8m high versions of them using concrete and basalt, a paramagnetic rock derived from volcanic activity. Quackenboss observed great results after just six weeks, with increased crop yields despite drought conditions.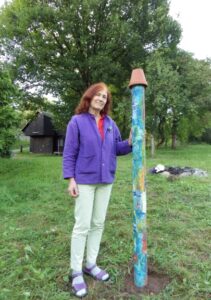 After attending a fascinating workshop with Professor Callahan in 1993, held in Lismore, New South Wales, I was hooked and started to make Power Towers myself, then took up teaching others about them. In 1994 we constructed one in Wanneroo, Western Australia, on a seven acre market garden. Whenever farmer Gary de Piazzi passed by it later on, he told me, it "sent tingles down his spine". Gary explained that "cropping on the sandy coastal plain is a bit like hydroponics, because of the lack of most nutrients there". Gary wanted to reduce his dependence on chemical inputs to his crops, that especially suffered from fungal outbreaks in the winter wet season.
Gary's Power Tower was made on a spot that was carefully selected by dowsing. He had also spread highly paramagnetic rock dust over his fields. The following winter was particularly wet. Perth's main dam at Mundaring was spilling over. And yet, for once Gary did not have to spray fungicides over his crops and his vegetables were most robust than ever!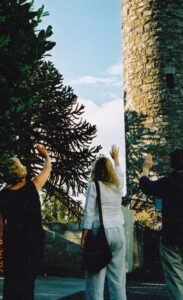 They are an easy and inexpensive way of improving food growing in a natural way, with stimulating effects on animals and humans, helping to energise us too. Less crop chemicals may be needed, so it can be a great win for the environment. Gary's impressive results spurred me on to help construct hundreds of Power Towers across Australasia at workshops mostly held in farming areas.
***Find out more, including how to make your own Power Towers in my book 'Stone Age Farming'.
***Visit Irish Round Towers, including the one that originally inspired Callahan, on a tour in Ireland with Alanna Moore, and also make a Power Tower. See Events pages.
***Buy ready-made Power Towers, from our colleagues at the Ifur Institute in Germany. See HERE.
This article has been updated from the original in the very first edition of Geomantica magazine, September 1998.
Reference-
Secrets of the Soil by Christopher Bird and Peter Tompkins, Harper and Row, 1989, USA.
Power Tower Feedback
"Thankyou for your quick response and the basic info . . . As for te Power Tower results … Well – we have placed one in the veggie garden and a small one in the glass house to see what would happen. We were just amazed! "When I placed the one in the glasshouse the tomatoes were really on their last legs and had finished flowering and I had picked the last of the fruit. Within 2 weeks of it being placed in there the tomato plants turned a rich green and started to flower profusely and continued to fruit right into June, July which is quite a feat being in a frosty part of Tasmania. The flavour of the fruit was so sweet as well being so different to the fruit picked before the PT was placed in the glass house. Several of the tomato plants closest to the small tower went on to fruit the next year with just as much vigour as the new plants only they were much taller being 2 years old. "The veggie garden experienced great change as well and the plants seemed to become more robust and healthy and with incredible flavour. We had a bumper crop of Raspberries even with the batch of first year canes. Because the veggie garden is contained with a wire fence to keep the Possums out so we are going to erect another in the garden proper. Kind regards." – B. B. Tasmania, 2010
"The garden and all garden spirits around here wishing you a very happy new year! Out of the bottom of my heart I like to thank you so much for all you did for us!!! Your work brought back balance and a smile to all of us." – Anja, Germany, 2019.
"Thank you for checking up on me, Alanna. I did manage to work out how to find the correct location for the Towers. So far I have built one 3 metres tall, from the information in your Stone Age Farming book. The Tower seems to be working. There are some interesting things happening around it. I have noticed, from a scientific point of view, that it seems to create a low pressure cell of air around the Tower, and noticed that when it rains, it dumps more water around that area than other paddocks. Also it takes a lot longer to mow the grass now ! The trees do show signs of extra growth, which is really good for us: and grafting that we do to some of the trees now shows an increased success rate to 98%, despite drought conditions. I have found the Tower to be very powerful, if you work near it, or walk close by, you can feel the energy emitting from it, and others have also felt it as they get close by the Tower. Have also found too much exposure can really charge the body, and find it hard to sleep (less need to sleep??)." – From a Jujube farmer from the arid north of South Australia who had been experimenting with Power Towers, in Geomantica magazine (no. 49, 2010).
"We decided to try erecting some Towers of Power on a dairy farm in northern Victoria, Australia, which had been experiencing a few unexplained problems… The results have been very good. There's a generally lighter happier feeling in milking and calving shed. The farm assistant commented that calves are "easier to handle this year". The calving process became extraordinarily easy; the calf survival rate improved about three fold in the first calving season and they were healthier calves. The cows are coming into and lining up for milking shed much more calmly, while calves are accepting the teat on the bottle more readily. As for plant affects, it's difficult to assess changes on the grass in a time of severe drought, but an employee commented that more frequent slashing seemed to be required this year…. The farmer's final comment was: 'I wouldn't want to farm without the Power Towers'!" – From Joan Evans, in Geomantica magazine November 2008.