Geomantica 84
March Equinox 2023
The magazine of Earth harmony, via dowsing, geomancy, esoteric gardening & agriculture,
and eco-sensitive living, since 1998. Edited by Alanna Moore.
Geo 84 Contents
News:
* High Electricity Bills and 'Smart' Meters,
* A Boost for Rock Dust in Australia.
* Electro-Sensitivity and 'Sensitive Permaculture' – Alanna Moore Explains, on You Tube and Podcasts.
* Pyramid Power – free book.
* New website on Radionics.
Features:
* Discovering the Moon Rocks, by Alanna Moore
An Aboriginal carving site in Sydney may be under threat from Aboriginal developers!
* Bones and Devas, by Steven Guth
Musings on the spiritual dimensions of a magnificent landscape near Sydney.
* Becoming a Geomancer, by Alanna Moore
The makings of an electro-sensitive geomancer, Alanna explains her early days.
What's On?
Geomancy workshops with Alanna Moore in Germany, Italy and Ireland in 2023.
G84 Editorial
Dear Readers,
Welcome to another free edition of Geomantica magazine, March 2023.
This year marks the 25th birthday for the magazine!
I recently returned from a summer in Australia and enjoyed the mild weather of a La Nina year. There were widespread wet fields in northern Victoria and I've never seen eastern Australia so green and lush. All a result of having 3 La Nina years in a row, which is highly unusual. Of course there was a lot of suffering for those who were flooded, often in places that had never seen floods before. But where I was in north central Victoria, nature was rejoicing, wetlands were super wet and animal numbers back on the rise. It was a huge re-balance, after so many drought years this century.
On a sour note, I experienced the misery of 5G first hand. Not long after arriving in Victoria, when I was feeling absolutely fine and had only recently recovered from a cold, I stayed one night at a friend's place, where I detected on my computer a 5G wifi network from a close-by neighbour. I didn't think much about it, but next morning, despite taking the precaution of wearing electro-smog protective clothing all night, I was wobbly and by the next day I had another head and chest cold that lasted for weeks. In other words, my immune system got badly zapped, when normally one would have a degree of immunity after just having had a cold. It would have been alright if I'd been able to snuggle down at home and sip hot lemon drinks etc, but no – I was on the road and teaching weekend workshops and it was not easy!
Such is life for an electro-sensitive person. I note that ES is classed as a disability in the UK. It should be recognised thus elsewhere! Happily, after 8 years without radiation-free internet, I'll soon be connecting to a fibre-optic broadband connection. No need for wifi, I'll just plug in the wire, the ethernet connection, and have a fixed place for the internet.
Speaking of connection, our cosmic connections is a bit of a theme to this issue's articles. The Australian Aboriginals had Song Lines that often connected the Earth and Cosmos, and they sometimes carved astronomical events in stone. They had Dreaming stories for their own constellations, often similar stories as are traditional in other parts of the world. Some examples from the Sydney area are described in my article about the Moon Rocks site.
Thanks to the contributors to this issue and please feel free to send me items for publication in future issues. (Geo 85 will be compiled in May.)
Happy reading!
Editor – Alanna Moore
Pics below – students dowsing at recent Australian workshops.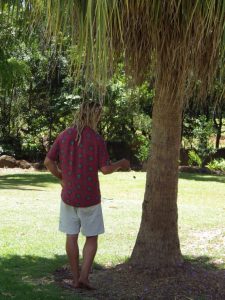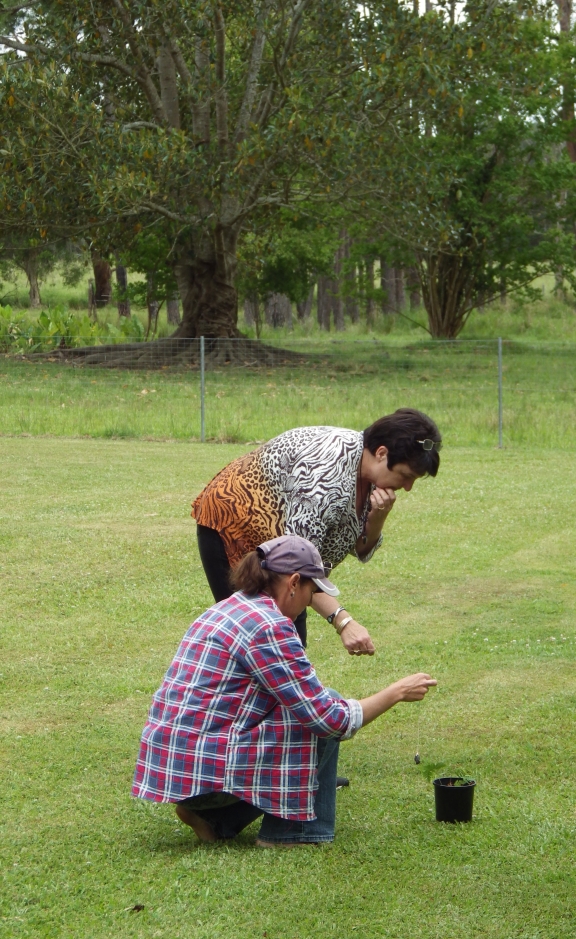 Geo 84 News
High Electricity Prices and 'Smart' Meters
The ever rising cost of living has caused much consternation over the past year. Household gas and power bills have been skyrocketing. But it isn't always because of the war in Ukraine, Peak Oil, or whatever you want to blame it on.
I recently heard some distressed people talking on Irish radio about the outrageous bills they had just received. Like 10 to 20 times the normal bill! One man said that it had come "after he got his new meter" and that the same had happened to other people he knew who had also just had a "new meter" fitted. More stories in this link.
https://www.irishtimes.com/your-money/2023/03/03/i-simply-cannot-afford-to-pay-it-readers-have-their-say-on-their-horrifying-energy-bills/
The phenomena of enormous bills since a digital, radiation emitting 'smart meter' has been fitted has been seen worldwide. According to a September 2017 post by Stop Smart Meters Australia:
"Changing over to a smart meter can lead to an unexplained increase in your electricity bill. Stop Smart Meters Australia has had many reports of bills inexplicably increasing by hundreds and thousands of dollars. Lab tests carried out by Dutch scientists on nine different brands of smart meters showed that smart meters may give false readings that, in some cases, can be 582% higher than actual consumption. Five out of nine smart meter models that they tested gave readings which were too high".
At least in Ireland we have the right to refuse a 'smart' meter. You simply ring the ESB call centre on 1850 372 757 and ask to be put on the register of people who don't want one. Have your meter number (the MPRN) handy, it's found on your power bill.
* A Boost for Rock Dust in Australia
I was encouraged to hear, while in Australia last month, that the huge rock quarrying company Boral has been recently funded by the Australian government to help them go 'carbon neutral' and to promote the farm and garden benefits of spreading particular rock dusts (- a waste product of their quarrying and grinding rock) over farm soils. Apparently, this has been done to help reduce agro-chemical use. In the 1990s Boral had done a huge amount of testing and evaluation of their rocks and became world experts on using rock dust in soil improvement. Their geologist Tony Zdrilic had initially wisened them up on this, having persisted in trying to get them interested and eventually wowing them with the big, tasty tomatoes that he'd grown in rock dust sprinkled soil. Tony came to one of my workshops and told us all about it. A lot of the information they gathered was passed on to me and I included it in my 'Stone Age Farming' book. But marketing and selling the selected rock dusts proved disappointing, with a poor take-up, and they closed down the project. So, this news was good to hear!
* Alanna Moore Explaining Electro-Sensitivity on You Tube
with Andrea Donnoli, Italy's leading exponent of Electro-Culture, in English with Italian translation:
Alanna Moore ElettroSensibility
https://youtu.be/M8cQpDgY61o
* Alanna Moore Explaining 'Sensitive Permaculture' on You Tube
with Andrea Donnoli, in English and Italian translation:
Permacultura Sensitiva
https://youtu.be/RfLZitXLoAY
* English/Italian Podcasts
Alanna Moore ElettroSensibility ENG ITA – By ElettroColtura andrea-donnoli's Podcast
https://www.podomatic.com/podcasts/andrea-donnoli/episodes/2022-10-28T00_31_30-07_00
Alanna Moore BOOK DOC Service Interview ENG ITALIAN – by ElettroColtura andrea-donnoli's Podcast
https://www.podomatic.com/podcasts/andrea-donnoli/episodes/2022-10-28T00_27_21-07_00
Sensitive Permaculture Permacultura Sensitiva ITA ENG – by ElettroColtura andrea-donnoli's Podcast
https://www.podomatic.com/podcasts/andrea-donnoli/episodes/2022-10-28T00_52_58-07_00
Andrea Podcast with 49 episodes in English, Italian, German, Czech, France
ElettroColtura andrea-donnoli's Podcast (podomatic.com)
* Pyramid Power
Free book download, courtesy of Andrea Donnoli, Italy's leading exponent of Electro-Culture.
Multi-language, links for download are here:
E-Book gratuito – Casa Eco-Sistema Totale – La Piramide – ELETTRO COLTURA DONNOLI (elettro-coltura.com)
https://elettro-coltura.com/prodotto/e-book-casa-eco-sistema-totale-la-piramide/
* New website about Radionics
Radionics is an advanced system of remote dowsing and healing.
Peter writes: The new website is aimed mostly at builders who have been asking for reliable info on this topic. Here's the link:  https://www.radionicinstrument.com/
Feature Articles
Finding the Moon Rocks
by Alanna Moore, March 2023.
In the wild sandstone escarpment country inland from the northern beaches of Sydney (Australia) suburb of Narrabeen, my guide Yolande navigates her ute amidst various road tracks through the bush. Finally she finds a sign marking the start of the walking track to the Moon Rock site she had heard about and eventually tracked down. An ancient Aboriginal site that must have been highly significant. A Dreaming site that was probably used for ritual and initiation.
There was an urgency to our visit. The little known 'Moon Rock' site is threatened by a nearby 450 house development, ironically – the would-be developers are the the Metropolitan Aboriginal Land council. It seems that they do not care much for their own cultural heritage, although they say they are only using degraded ex-farmland. A looming state election on March 25th was polarising the various local politicians and feelings had been running high, with a campaign against the development called 'Save Oxford Falls Valley'.
Walking a gentle upward incline, we squeezed along the narrow path through vegetation lush from record rains over the past 3 years. (I have never seen Sydney, nor the rest of eastern Australia, looking so green over summer! ) It's obviously not a well trodden track. The path ended at the edge of a wide flat stone terrace, a common feature on hilltops in this sandstone country. These are ideal for Aboriginal carvings, which are common in this region, and many iconic carved figures are found around here and in nearby Kuringai Chase National Park.
We sat down on a log and took our shoes off. This is not only a respectful approach to the site, it also protects the carvings from being worn down by shoed visitor traffic. From the hilltop there were expansive views all round us, of wild, unspoilt bush in all directions and to the east the languid blue Pacific Ocean. With its amazing wildflower diversity and naturalness, it would be a crying shame to bulldoze it away just for profit.
Walking over the widespread stone pavements, with often beautiful patterns formed by ancient ocean depositions, we were soon looking at something that didn't look natural. To me they were like a field of cup marks, a common type of carving found worldwide. Small hollows made naturally by water erosion in the pavement were evident elsewhere, but I'd never seen so many and in such a deliberate looking grouping that would suggest them likely to be man made.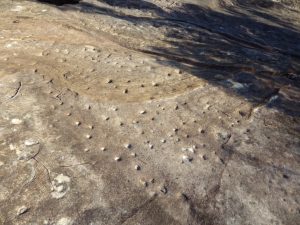 The next feature we came across, as we headed for the main site at the end, was a series of 'mundoes', foot print carvings that lead one to special sites and suggest to me the path of initiates during ceremonies of initiation. I have encountered them before. (You'll see one in the last photo.) Then we were coming across more and more carvings, of fish, whales,'spirit man' forms and odd shapes that were hard to interpret. Often the carvings were superimposed over older ones beneath them, despite plenty of room to spread them out. Mundoes wove their way between these carvings, leading us onwards.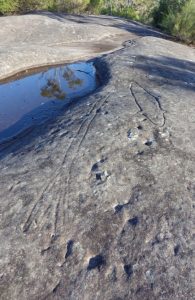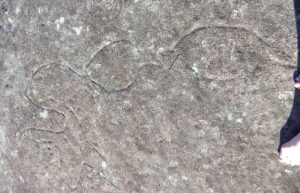 At the end of the pavement area came the climax of this ancient gallery – a series of full moon shapes, plus a crescent moon. A breathtaking sight!. (Also in the photo are a mundoe and a curiously coloured 'orb' at the top, above a figure of a 'spirit man'.)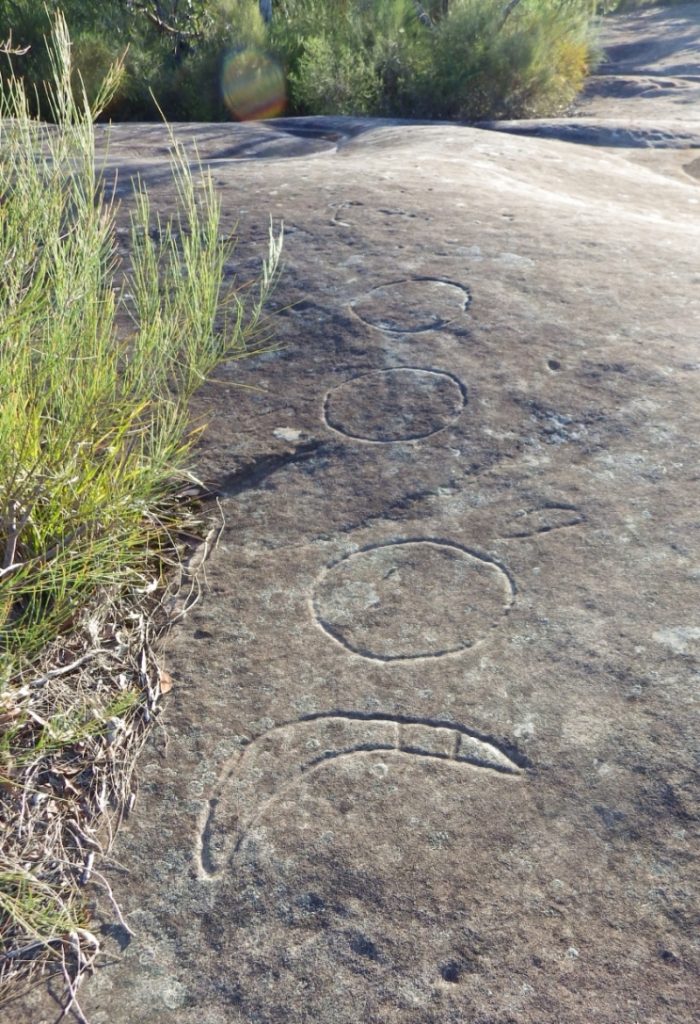 Astro-archeology
I have written before about modern astro-archeological interpretations of particular carvings in nearby Kuringai Chase National Park. The carved Emu sitting on its eggs is the most well known figure. It reflects the 'Dark Emu' section of the Milky Way, known as the Puma in ancient South American astronomy and as the Coal Sack (the Emu head) in modern western terms. This part of the Milky Way rises over the carving in the night sky at the time of year when Emus are nesting. Their eggs were prized food.
The other such well known carving in this area is of a woman partly superimposed over a man, with a crescent moon above them. This could be depicting a lunar eclipse, says authors Ray and Cilla Norris in the book Emu Dreaming. Of that figure they write – "Why is the Moon shown with the two horns pointing down, since that configuration is seen only in the afternoon or morning when the Sun is already high in the sky, and the Moon barely visible? One answer is that it might depict an eclipse, when the Moon (or the Sun) can be seen as a crescent with its horns pointing downwards."
Should we be surprised that Aboriginal people were acknowledging the cosmos and cosmic events and weaving their Dreaming stories and Song Lines between Heaven and Earth? Of course not! I have written about the Aboriginal stone circle near Melbourne that marks the summer solstice, in my book 'Touchstones for Today'. Such a preoccupation has been universal, common to all humanity.
Bones and Devas at Glastonbell
by Steven Guth
Steven, who lived in Canberra, did much work with the devic beings in his life. Just before he died a few years ago, he kindly gave me a memory stick with all his writings on devas, from which this is extracted. This article focusses on a special place in the Blue Mountains near Sydney. Its custodian Philip Simpfendorfer, also deceased, features on my film: 'Glastonbell Dreaming' (Part One of the 'State of Pilgrimage' documentary film series). Steven features on my film 'Discovering the Devas' (Part Three of the 'Geomancy Today' series). Both of which are available from geomantica.com
I've been coming to Glastonbell for years, perhaps as many as 15. It has seemed like forever. I have indeed blended in with the deep ecology of the location. I've had many spiritual experiences in the 500 acres or so of virgin bushland that makes up the property. Phillip Simpfendorfer, the Custodian, has became a firm friend. We have shared many of the Alternative community's ups and downs.
It was the Kashmiri connection that brought Glastonbell to life. Gopi Nath Ji the Kashmiri mystic that spent his life working with Devas of place manifested into Philips life and helped form Glastonbell into the magical place it became – a place where human and Devic energies could live together and communicate with each other.
On two occasions Gopi Nath Ji manifested to me too. During meditation a strong presence appeared and "told" me things – it wasn't a communication, it was a telling. I found this strange and asked Philip about it and he said, "yes, that's how it is, that's the Indian way."
I think that Philip's ideas about the Devic life at Glastonbell are best expressed in his book "The Dreaming". We had great fun writing it. I remember sitting in the lounge room one wet day and Philip giving me bits and pieces of his writings to read. We both had time on our hands and the magic of Glastonbell was in the winter air. We worked on the Dreaming Book manuscript. We wondered around, meditated, photographed and listened. Philip wrote and I prepared the material for printing.
Philip became known to the new age movement of the 1970's through his book, "Journey to Earths Dawning". The book is essentially the tale of his journeys to Kashmiri and Bali and how he brought back the energies of sacred sites to help with the 'Renewal of the Dreaming' – the Aborigines' awakening and sharing of their sacred site energies with people from outside their communities.
*************************************
Consciousness is everywhere, perhaps it is the primary expression of life in intergalactic space. Trees have Devas, flames of awareness that help them to grow. Rock formations have consciousness, even an individuality that sensitive people can link into. Large hills and geographic areas also have a consciousness and this can be huge and complex.
An interesting thing about hill devas and landscape angels is that at some level they want and need people to connect them to others of their kind. They travel within the minds and bodies of people. I suspect that Devas of place are influenced by humans and enjoy working with us. The smaller ones, like those attached to many of Glastonbell's sites are much like gnomes. They have a Dreaming and like to share with us. The images and language they use varies to match what is in the minds of the people who approach them.
*********************************
On recent visits in November 2003 and April 2004 I found that the Kashmiri dreaming that Philip and others had brought to the sites is fading – there has been no one around to communicate with the Devas through Kashmiri thought forms and visualisations.
So the older Aboriginal patterns that have been woven into the landscape for thousands and thousands of years are beginning to re-establish themselves as the way the devas of place are sharing their communications with visitors.
On my last visit, bothered by poltergeist activity in the house, I struggled to find out why. From my dowsing I confirmed what many of us already suspected – that the house is on a Song Line, a Dreaming Line along which moves spiritual forms which can manifest themselves out of the Dreaming into the here and now under the right circumstances.
OK, what do I mean by the above? Well, I guess it's much like the discovery by modern quantum physics that there are particles of matter that only exist when people search for them. It seems that some forms of matter pre-exist in some other reality but are brought into the here and now by people searching for and expecting their existence.
Another thing that became clear from my dowsing was that the Bell area is a virtual traffic circle of Song Lines. Lines along which people and spiritual forms have moved for thousands of years. Four or five major lines meet in the Bell area and many smaller ones (like the one that runs through the house) are also associated with the location.
The major lines seemed to run up to Dubbo, to the central coast, to the south coast, to the Bathurst area and the southern tablelands.
Yes, Bell was an important location. No wonder Glastonbell is so special.
But, I've come to suspect, that the really amazing and special thing about Glastonbell is that it was used by Aboriginal people to keep themselves and the landscape connected to the 'Sky Heros' who keep the Dreaming unfolding in the right way so as to keep the everything alive and healthy.
To explain this I need to present a startling and rather strange new idea … actually it is found in most esoteric systems but seems strange when present in the language of modern science.
Over the years I have been studying the human personality and have come to the conclusion that we are really two things – earth body and higher self – quite different things that need to balance each other in our daily lives.
The earth body consciousness has its residence in the spine and the old brain. Higher self in the skull with its complex oversized brain. The spine and the rib cage can be seen as antennas that connect the earth brain to all the things on the earth. It has different foci, which radiate and receive at different wave lengths. All this corresponds fairly well to the Indian ideas about chakras.
The skull with its brain is another antenna, a sort of mobile phone that tunes our consciousness to what comes in from intergalactic space … out there are billions of Galaxies, with billions of solar systems with further billions of planets – and it's all alive with consciousness at the Devic, human and planetary levels. Now, I suspect that clever men (and all deep mediators) over the years develop consciousness links to other active consciousness on other planets. So clever men, meditators and the mystically religious become good channels for this intergalactic consciousness to manifest on Earth.
We humans all instinctively know this. We revere the relics of saints and build churches and cathedrals to house them. We collect the 'pearls' left after monks have been cremated and build stupas around them. Over the years the energy that radiates from bones weakens but seems to infuse itself into the things it comes into contact with. So saint's relics are encased in jewels and put into churches. Monks' pearls are encased in stupas and Aboriginal clever mens' bones were placed in caves.
Glastonbell's caves with their quartz chips and iron ore veins must have been used for this purpose with bones brought from far away to be placed into niches in the 'cathedral', goddess site and other places. Sensing this I went into the 'cathedral' area and tried to connect myself to the unfolding dreaming that may still be active in the site. I made some notes afterwards …
But first – and I think this is important – I staged a little corroboree dance on the white sand of the dish. As I danced I noticed a gnomish sort of being sitting on a rock behind me. So I performed for him. I acted out the totems of the Devic energies of the area, the birds, the snakes, the wombat … and whatever presented itself to my consciousness.
The gnome seemed to approve, he suggested I take along a stone which would serve to represent him later on. I put it in my pocket and carried it with me for the rest of the day.
Later, walking into the cathedral, I was aware that my gnomic friend, satisfied that I had performed the necessary ritual, allowed me into the space that would give me the information I was seeking. I began to settle into meditation in the middle of cathedral, I placed my consciousness into a cavern on the cliff in front on me. I made these notes later in the afternoon …
Remember that every grain of salt crystal captures the energy of its time and place. Locked into the crystal it is released when the salt dissolves.
The human body, the bones, capture much. They become links to other star beings, to consciousness that radiates from far away.
Gnomes treasure the energy that accumulates in the bones of clever men and try to preserve and protect it.
We need to reassure them that we are not going to desecrate the energy.
We dance to acknowledge the totemic beings of a location before we try to contact the sky heroes.
This place housed the bones of clever men from the west – Dubbo, Forbes, Parkes, Bathurst … and the Sydney side of the range.
Over about 200 years the bones decompose completely transferring their energy into the rocks, stones and surrounding area.
Every clever man had his own sky hero (or heroes) who worked through him … becoming a channel to keep the Earth's dreaming alive. That's why corroborees were so important, they made it possible for the Dreaming to unfold – for the past and the present to become the future.
The gnomes want to keep the connection between the Aboriginal elders and their sky heroes open. They like being connected to intergalactic space and know that the connections are necessary to keep the Earth healthy.
The Dreaming, at any moment in time, is a mix of the spiritual influences that come from intergalactic space and things that are present on the Earth. These influences mesh together and balance each other out in an 'ecological' way creating from the past and present a possible future.
If we ever loose the Dreaming – the connections to the consciousness that are focussed on other planets in intergalactic space – then the Earth will become a darker place because the Earth powers, the Ahrimanic powers, will become more influential in the weave that is the unfolding of the future from the present and past.
It seems that a connection between a clever man's sky hero and the distant Devic consciousness can only happen when there is a direct line of sight – a straight line between here and there. So the position of the Earth in it' s rotation and orbit are important, even critical. This is the core of astrology.
At any one time only single links may be open at any one time. This is because the cathedral area is a deep and narrow slit, exposing only a small band of the sky.
So the jumble that comes from too much cosmic information, from too much input, is reduced to a manageable amount, allowing clearer links to be established.
The link that made itself open to me was 103.25 , that was the line of sight connection (I have no idea what the numbers mean!) It seemed to me that I had made a connection to an open valley spirit – a landscape angel of a river (was it water?) valley with rocks and low mossy like vegetation. It presented itself as a ball of light, a being that was looking after its valley but curious about events that were happening in the cathedral – now.
Pic – Steven and son John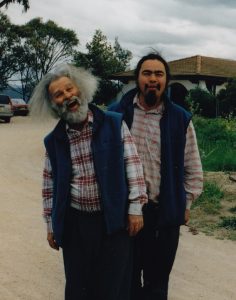 Becoming a Geomancer
by Alanna Moore, March 2023
I suppose I was destined to be a geomancer. It all goes back to my life at the age of 14 in Sydney, Australia. The new family home was a charming old timber farmhouse, my bedroom looked lovely. But where the bed was placed turned out to be life changing for me and something that I have subsequently warned others about. But I didn't work that out until years later.
All I know is that I started to have night time visits of ghostly entities. One golden spirit tried to comfort me, but I was scared and bewildered! Other spirits would drag my consciousness out of my physical body and take me astral travelling. At one point as I was being dragged out of body by my feet I experienced the seat of my consciousness moving into the palms of my hands. It was as if I had eyes there. That's what they wanted to show me I suppose. But I would be physically frozen with fear.
"Have no fear," the golden spirit had said as she gently breathed on my face, so I sort of relaxed into it. Telling my parents of the initial shock didn't help at all and a school friend advised me to keep it to myself. So I didn't tell anyone else for years, but I did start to devour any esoteric books I could find in the library. These days one might consult the local shaman healer about such experiences and turn them into something positive. I had to work it out by myself.
After I left home aged 16, unable to bear life there any longer, I no longer had the sleep time experiences and my weekly migraine headaches disappeared too. I put those down to the awful fluorescent lighting that is a feature of most schools. In hindsight – I was manifesting electro-sensitivity, that probably developed because my dad was an amateur radio operator with a tall mast in the backyard so he could talk to his friends world wide. My young brain must have been overdosed on radio-frequency waves!
Having received much comfort from reading old Theosophical society publications, I was able to understand myself better. The spirit world was a reality, I had seen it crystal clear after all. In ancient tradition, initiation by spirits is the ultimate way to become a shaman, I discovered. But there were no mentors around to guide me. (I later joined the Theosophical Society, as did a grandfather of mine who was also involved with the revival of Druidism in Cornwall in the 1950's.)   Pic – Theosophical symbols at their centre in Aukland New Zealand.
I did become fearless and travelled across half the world solo when aged 17. I ended up living in London for several years, where my book studies continued and I found a spiritual teacher who encouraged my psychic development. In 1980 I joined the British Society of Dowsers, having realised the potential and significance of the art of dowsing. It could give me control over the vague intuitions that I would have (as we all have) and help me to navigate invisible worlds.
When I had my only child Sky I had no family nearby for advice. I was worried when he cried a lot in his cot. But then I had a vision of an energy line that ran along where he slept. I didn't know what it was, but I knew it was wise to avoid any strong energies in the bed location, so I moved the cot to the other side of the room. Immediately he stopped the crying and settled down and thrived from then on.
I left London in 1982 and returned to my old home in Sydney for some family support. This time I was armed with a pendulum for dowsing trouble spots! The application of dowsing to geomancy – reading the energetic environment – was already my favourite use for it. Swinging my pendulum over the spot where I used to sleep I discovered a powerful Earth vortex there. Aha!! A vortex is a portal where spirits can come and go from. No wonder it was not possible to stay there! (My neice who moved into the room after me also had weird experiences there.)
Sydney had few dowsers at the time and I went on to help found a state-wide dowsing society that will be 40 years old next year. I now provide professional consultancy help to people who are not comfortable in their homes. And I've had to explain the problem of sleeping over a vortex to others who were similarly affected, some thinking they were going mad! Obviously, my destiny was to be a geomancer.
Geomantica Events Coming Up
IRELAND 2023
DIVINING THE LANDSCAPE one day workshops with Alanna Moore in Co. Leitrim, suited to all, from beginners to experienced dowsers.
* Sunday April 23rd + Saturday August 19th
Venue – The Organic Centre, Rossinver, Co. Leitrim.
Book via website – www.theorganiccentre.ie
or phone +353 (0)71 985 4338
DIVINING THE LANDSCAPE weekend with Alanna Moore in Co Clare, plus (optional) Monday 22nd – field trip to local sacred sites and trees. Suited to all, from beginners to experienced dowsers.
* May 20th & 21st, 10 – 4.30pm daily
Fee: €160 if paid before April 20th, €180 afterwards. €40 for the Monday event.
Venue – Newlawn, Tulla, Co Clare, V95RT61
Book via this website HERE.
Email – Pat McInerney – ballinakilorganics@gmail.com
July 21-23rd
RIVER SPIRIT WEEKEND with food and accommodation (event to be confirmed)
Venue: At 'Riverbank', beside the River Shannon, Drumsna, Co Leitrim.
Programme includes
* Friday evening – supper and evening film 'Sacred Water'
* Yoga, morning and evening
* River Songs Walk, walking/singing along the Shannon.
* Sound Healing
* Lunch & Dinner, basic vegetarian eco-peasant fare, cooking demonstrations
* Learn to dowse for water & river energies, on Sunday – dowsing for health & chakra energies.
* Saturday night shamanic ritual.
Fee: €300 inclusive.
 Bookings: info@geomantica.com
GERMANY 2023
Alanna Moore will teach geomancy at a workshop festival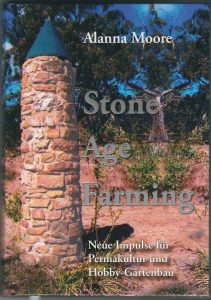 23th to 25th June
Weekend Workshop 30th June to 2nd July.
Brandenburg area.
Organised by Nexus magazine. More info – stay tuned!
Enquiries – daniel@nexus-magazin.de
ITALY 2023
JULY – Saturday 8 and Sunday 9
Intensive workshop with Alanna Moore:
SENSITIVE PERMACULTURE and STONE AGE FARMING
 – only 15 places, 9 are taken already
Venue – Andrea Donnoli's food forest near Bologna, Lizzano in Belvedere – Bo – Emilia Romagna
Booking available here :
CAPARRA PER FORMAZIONE ELETTRO-COLTURA corsi dal vivo 2023 – con Andrea Donnoli – ELETTRO COLTURA DONNOLI
https://elettro-coltura.com/prodotto/formazione-elettro-coltura-corsi-dal-vivo/
Note that our chef Marco will be with us again, for lunch, breakfast and fantastic ice cream.